Due to quarantine, Michelle's bus will not run this afternoon. Please plan on picking up your child today. We dismiss at 12:50 today. Sorry for the inconvenience. We just found out a few minutes ago. If you cannot pick your child up, please call the office ASAP so other arrangements can be made.

OBR is still dismissing at 12:50 today. There will be no school tomorrow or Friday. Monday we will dismiss for our usual first Monday of the month 2:00 dismissal. Have a great 4-day weekend! Stay warm and stay safe!

OBR will dismiss at 12:50 tomorrow, 2/2, due to the weather conditions that are being forecasted for tomorrow. As far as Thursday, no decision has been made yet, but we'll let you know as soon as that decision is made.

Michelle will NOT RUN her AFTERNOON route on TUESDAY, FEBRUARY 1. Please plan on picking your child up after school. If this is not possible, please call the office so that other arrangements can be made.

Due to the high number of quarantined students and staff, OBR will go on adaptive pause on Thursday (1/13) & Friday (1/14). We will return to school on Tuesday (1/18) after the ML King holiday. If you wish to have lunch provided to your child, please contact nurse Terrie tomorrow before noon. Lunch pickup up will be available both days at school from 11 am-1 pm and at the BR Baptist Church parking lot from 11:30 am-12:30 pm. We apologize for the inconvenience this causes, but feel it is in the best interest for the health of our students and staff.

Students start back on Tuesday. Grief counseling will be available for students and staff all day Tuesday. There will be some bus route changes as we are going back to 3 bus routes. We will have more info tomorrow. Please keep your child at home if they have any of the Covid symptoms: fever, sore throat, stomach ache, nausea, vomiting, diarrhea, etc. We will continue to follow the IDPH 10-day quarantine guidance for schools. The new 5-day quarantine guidance is only for the general public per IDPH. Check the app for this week's menus. See you back on Tuesday!

2pm dismissal tomorrow. Peewee parent/player meeting tomorrow 5 pm in cafeteria. Sports pictures and retakes on Wednesday.

Don't know what to have for supper tonight? Hope about Bonnie Cafe? Come support our cheerleaders!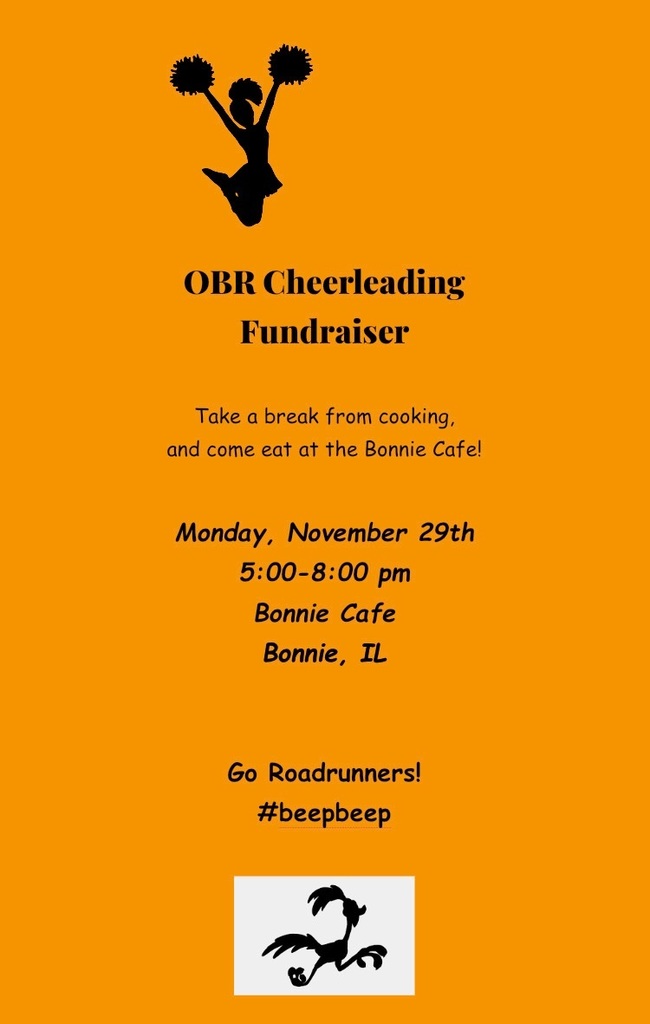 Russell's bus riders: Tomorrow (Friday), Russell will not be driving his routes. We are asking that you bring your child to school and pick them up after school. If your cannot bring or pick up your child, please call Terrie in the office so other arrangements can be made. Sorry for the inconvenience.

OBR t-shirt orders and money are due TOMORROW (Thursday, November 18). Be sure to get your orders in tomorrow!

Last weekend we learned of the passing of Krista Gee. Krista was one of our cooks from October 2019 to June 2020. On Tuesday, November 23, we are having a pizza fundraiser at lunch time. Students will be given the opportunity to purchase pizza and a soda for a minimum donation of $2. There will also be a donation bucket in the hallway for those wishing to donate extra.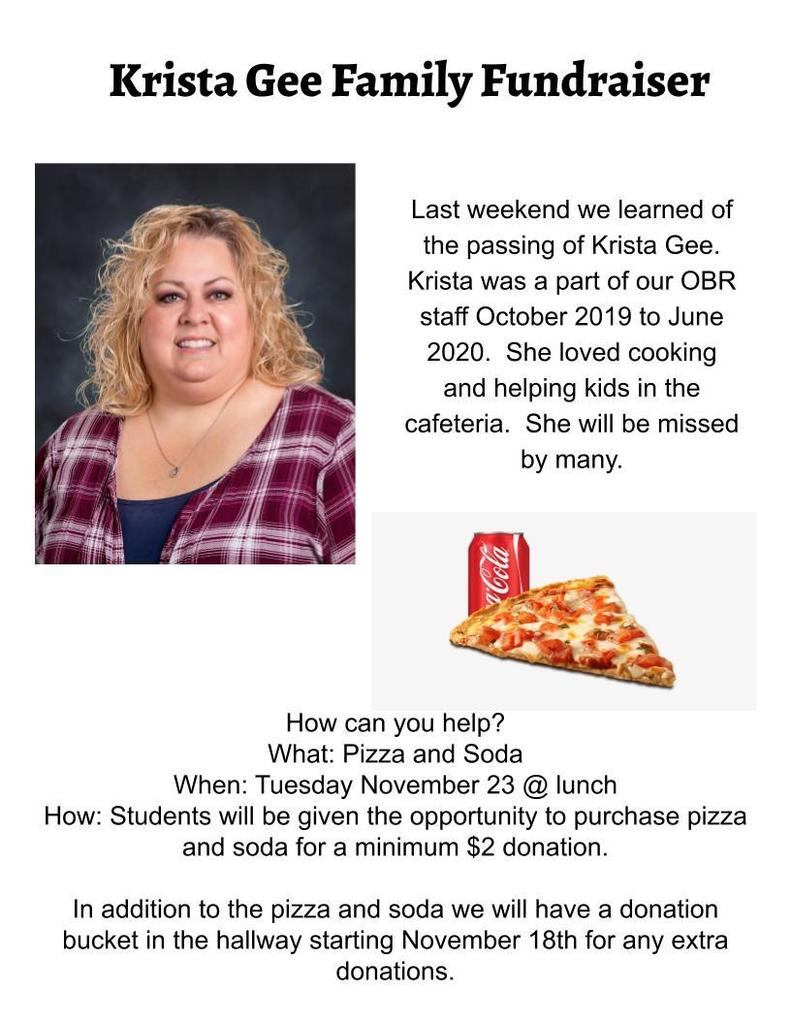 OBR t-shirt orders are due, with money, on Thursday, November 18 (that's the day after tomorrow!).

Reminder: No school tomorrow in observance of Veterans' Day. We will see our Roadrunners back on Friday!

Reminder: No school on Thursday, November 11 in observance of Veterans' Day. See you back at school on Friday!

The OBR PTO will be meeting on Wednesday, November 17 at 4 pm in the cafeteria. Come join the fun!

Reminder: Veterans' Day program tomorrow at 9 am in the gym. Hope to see you there. Visitors are required to wear masks per COVID guidelines.

The girls' basketball game vs Spring Garden scheduled for this evening has been cancelled.

Monthly first-Monday-of-the-month 2 pm dismissal tomorrow afternoon. Blood drive at school Wednesday from 2-6 pm.

Reminders! *Michelle's bus not running routes tomorrow. Students will need to be dropped off and picked up. Call school if you need other arrangements. *Fall parties tomorrow. *2:00 p.m. dismissal tomorrow. *No school Friday. *2:00 p.m. dismissal on Monday (11/1)

Come give the gift of life! Each Roadrunner who recruits one presenting donor gets a free pair of American Red Cross socks!